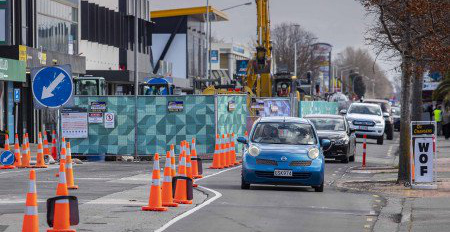 Work on upgrading the busy section of Riccarton Road between Harakeke and Matipo streets is likely to finish four months earlier than expected.
It was anticipated the upgrade work would take until the end of 2020 to complete, but contractors Fulton Hogan have advised Christchurch City Council they should have the work done by August 2020.
"Fulton Hogan have managed to get through the sewer work faster than expected so that means they have been able to fast track other aspects of the project,'' says Council Transport Planning and Delivery Manager Lynette Ellis.
"We realise there are still many months of road works ahead but we are really pleased that Fulton Hogan have been able to bring forward the completion date by a few months.
"They're very conscious they are working on one of the busiest streets in Christchurch and that it is causing disruption for businesses, residents and those who travel on Riccarton Road so they are constantly looking at ways to get the job done faster,'' Ms Ellis says.
The job involves replacing and upgrading about one kilometre of old, damaged sewer pipe, which is buried four metres below the road, and then rebuilding the road to accommodate bus priority measures.
"Most of the work that is being done along Riccarton Road is essential upgrades to the infrastructure, but we are also taking the opportunity to make some streetscape improvements and add some landscaping so we create a nicer environment for all road users,'' Ms Ellis says.
Matipo St and Clarence St/Straven Rd intersection work
"We have been talking with many of the affected businesses around these intersections to establish when it is best to do the most disruptive work. Early in the new year suits most people best so we will work on the sewer pipes under these intersections at that time.
"We know that won't work for everyone so please get in touch if you have specific access requirements around these intersections."
https://www.ccc.govt.nz/news-and-events/newsline/show/3897