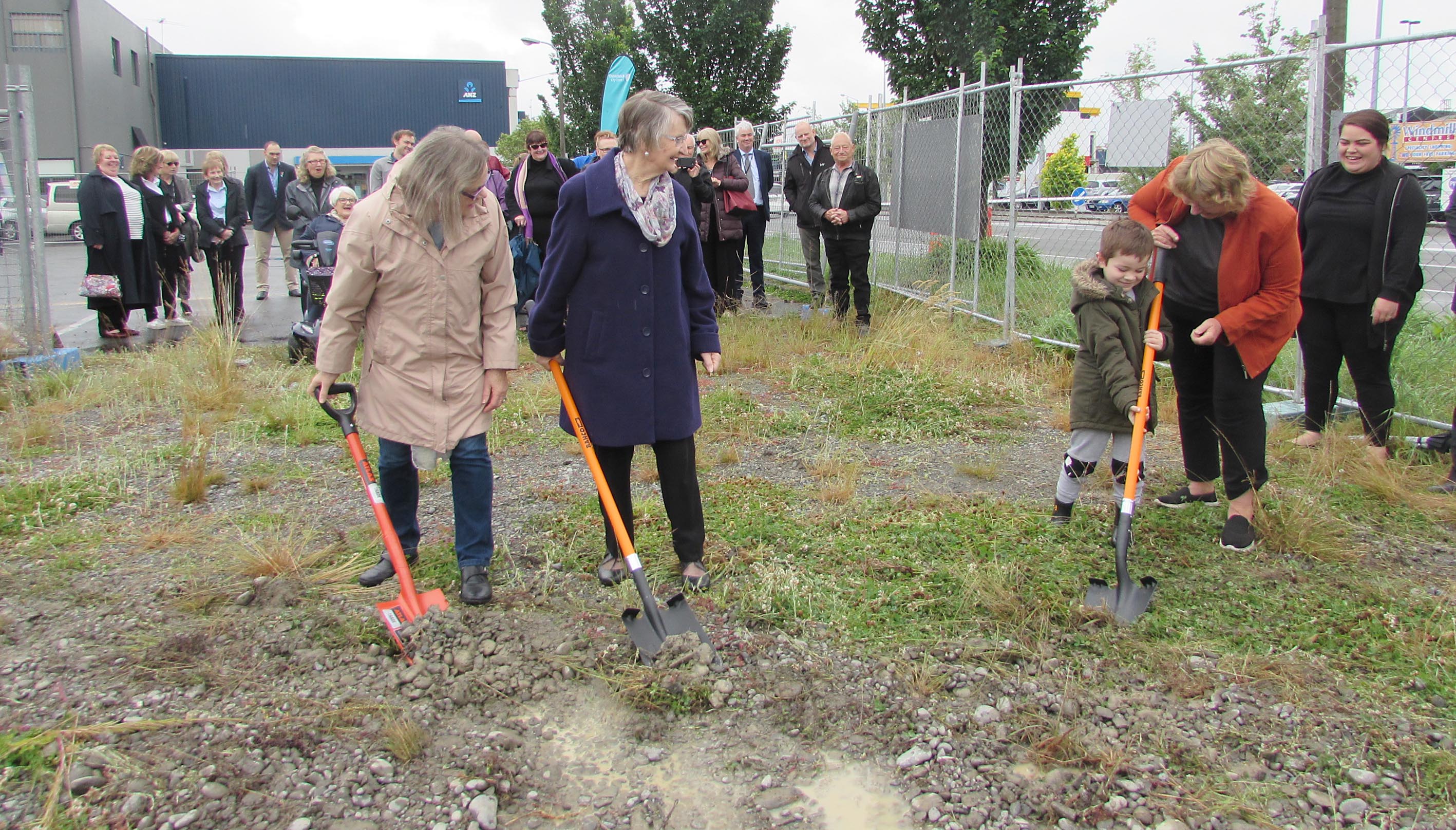 Members of the Riccarton community had the honour of turning the first sods when the beginning of construction of the new Riccarton Community Centre was marked today.
A resident of Picton Avenue for the past 58 years, Mary Narby; the Treasurer of the Central Riccarton Residents' Association, Joscelyne Silcock; and a four-year-old local pre-schooler, Jack Snell, wielded a shovel each in the small ceremony this morning at the site of the new Centre in Clarence Street.
The new two-storey Centre has been five years in the planning. Construction is due to start on 7th January, and the 760 square metre building is set to open by Christmas next year. It will feature customer services, a meeting and performance hall, activity and meeting rooms of different sizes, and a kitchen. It will also be the main meeting place for the Halswell-Hornby-Riccarton Community Board.
The community centre had its beginnings as the Riccarton Town Hall, opened in August 1914. It was constructed by day labour instead of being put out to tender, a saving of approximately $600.
During the 1918 influenza epidemic, the Town Hall was used as a headquarters for the relief effort. Seventy volunteers provided nursing and medical care, and meals and soup were prepared and distributed from the supper room. Meals were delivered in Mayor John Brown's car. The Town Hall also functioned as a telegram receiving office between 1914 and 1923.
By the 1950s the Town Hall was heavily used and showing signs of wear and tear. The existing buildings were extended in 1960, and new borough offices were opened next door in 1964. The last meeting of the Riccarton Borough Council was held on 25 September 1989. Upon amalgamation with the Christchurch City Council, the former Town Hall complex became the Riccarton Community Centre. The former Council offices were leased out as a bar and restaurant.
The Centre suffered significant damage during the Canterbury earthquakes of 2010-2011, and the building has been used simply as a council service centre since.